The platform
10 good reasons to choose MyNet:
Because it allows you to offer managers and users an easy-to-use tool that takes the colors, logo, and name of your community
Because it is a tailor-made tool that you can create according to your needs by choosing from the 16 available modules
Because it is a safe and affordable software solution that is carefully cared for and maintained by MyNet's team
Because it is time to anticipate the increasingly mobile needs of your community by providing them with a tool to use via smartphone
Because it guarantees you the possibility to take advantage of the skills of MyNet's consultants to better manage your community and business processes.
The platform
10 good reasons to choose MyNet
Because it represents a perfect mobile tool for users to communicate with the community or with the company
Because it simplifies the daily work of those managers who have to manage and receive people's feedback
Because it allows optimizing processes and reducing the costs of managing people by offering a valid digital alternative to email and unsafe paper communications
Because it is the tool that communicates with the platform already in use, even the most complex and difficult-to-use one that people tend to avoid
Because it is the perfect solution to manage any community by engaging users through gamification.
Some numbers
Customers' feedback
From a questionnaire administered to nearly 200 managers and over 30,000 users, it emerged that using MyNet: 
93% of managers managed to make the processes more efficient 
64% of managers observed significant savings thanks to digitalization

 

42% of managers found MyNet to be the solution to better communicate with employees 
90% of users said they felt more motivated and involved in the business reality

 

78% of users appreciate being able to find everything they need in a single mobile solution

 
MYNET: THE CORPORATE APP
A single platform for multiple benefits
Customisation
MyNet is a highly customisable platform both in terms of graphic interface and functionalities. Companies have the opportunity to customise the interface to ensure consistency with their corporate image and choose among the several available functionalities. Upon request, it is possible to insert the App with the logo and company name directly on Android and iOS Stores.
Back Office and App
MyNet complies with the GDPR and labour law and integrates with company management systems and digital infrastructures already in use. MyNet App is available to users on Android and iOS stores, and the Back Office is accessible from any browser. Data are encrypted and subjected to automatic backups.
Assistance and support
MyNet's team ensures training, assistance, and ongoing support to company managers and users of the App. The direct contact with a MyNet consultant combined with the availability of consulting additional information material (from tutorials to successful cases) guarantees an easy and enjoyable release and use of the platform.
User segmentation
MyNet offers the opportunity to segment users on the platform into predefined groups, allowing the managers to convey content and documents to a targeted audience. This segmentation simplifies the management of daily activities and improves communication, allowing staff to view and receive only content that may be of their interest or need.
Multilingual
MyNet, in addition to being an intuitive and easy-to-use App, overcomes language barriers becoming a solution accessible to all. No manual changes needed: the App adapts by default to the language set on users' devices, and the Back Office does the same according to the language of the web browser.
Shared developments
MyNet periodically organises workshops to gather the companies that use the platform and want to share and listen to best practices and advice. Thus, MyNet's network creates the perfect environment to share new ideas, starting points and experiences that allow the entire network's growth while fostering a healthy and productive work environment.
All-in-one solution
MyNet is the all-in-one solution that allows companies to employ a single tool with multiple functions to simplify everyone's daily life. Through the Back Office, managers can monitor the company situation in real-time and better coordinate activities by extrapolating data when necessary.
Real-time connection
MyNet favours efficient and real-time communication, easing dialogue with employees, collaborators, and stakeholders, wherever they are.
It simplifies sharing information, news, multimedia content and texts and stores files safely. Through the Back Office, managers can monitor if and when employees have viewed a specific document. All in real-time.
Team building
MyNet is the ideal tool to concretely implement internal Marketing and Employer-branding activities and encourage a cohesive team. The platform allows to improve the communication and increase interaction between colleagues, collaborators, and managers. The goal is to create an environment aimed at motivating, listening and making everyone feel an integral and active part of the company.
Since 2018, more and more business teams rely on MyNet to organize and simplify their work.
As a group of companies with about 400 people located in 7 offices, MyNet represents for us a tool capable of connecting all employees, making them feel part of a single reality. With MyNet we can inform all employees "in real time" about company objectives, successes, challenges, communicate useful news and involve them in various internal activities. The App has allowed us to optimise internal communication and is creating excellent engagement among colleagues.
Thanks to its characteristics, MyNet has allowed our company to carry out constant two-way communication (between company and employees) through the use of the application downloaded on the workers' mobile phone. This has also made it possible to streamline many activities previously carried out "on-site ". Excellent customer service.
Fascinated by the peculiarities that distinguish MyNet as an intra-company platform, the World Center in Trieste has chosen to use it with a much broader purpose: to connect over 300 WTCs and their associated companies around the world through a user-friendly App. All thanks to one of the features we most appreciate about MyNet and the team behind it: the flexibility to adapt to customer needs to build an international and tailor-made environment, one of a kind.
Using the MyNet App, Dynamo Camp manages to simplify the procedures for managing Human Resources, speed up communication
between colleagues and facilitate the sharing of information between the different areas of the Foundation. MyNet supports us in our continuous path of development and improvement.
Who chose MyNet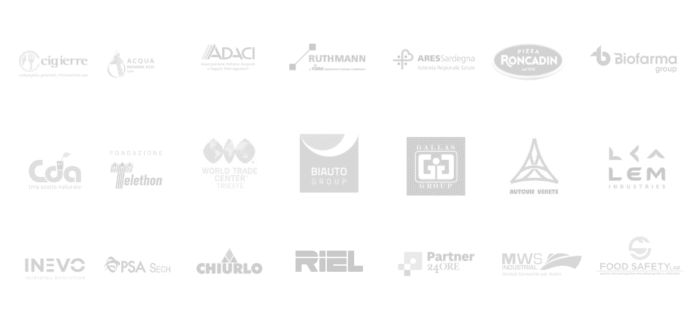 Roadmap
Mynet's story is rich with key milestones
01 April 2017
MyNet technology arises upon Biofarma Spa's request
Biofarma Spa requires a custom tool to manage Internal Communication and employee absences. MyNet was born with a Back Office and a first Web App version consisting of three modules: News Feed, Chat and Ticket HR.
06 September 2018
Roncadin Spa requires new features and the Web App develops accordingly
Roncadin Spa joins MyNet's project requesting new custom features that lead to modules: Cabinet, Links, Gamification, Car sharing, Time bank, Survey, Events and Training, Charity projects.
16 October 2018
The number of companies interested in MyNet increases
San Marco Benessere adheres to the project identifying MyNet as the ideal technology to simplify work processes. Therefore, MyNet's network expands and includes now three customers.
05 November 2018
The desire to grow leads MyNet to participate in a European Competition Announcement
Some interventions are necessary to improve the product's stability and performance and ensure the project's scalability. The CEO decides to submit MyNet to a European call.
01 February 2019
Win of the European Competition Announcement and new fundings
The winnings of the European Competition Announcement guarantee investments in research, development, tests and improvement of the platform.
The project gets more stable, and the team plans new and quicker set-up and release procedures.
06 March 2019
The new platform attracts additional customers
MyNet closes negotiations to acquire new customers for the newly improved platform that is now more stable and complete. The Web Abb becomes available on the official iOS and Android stores.
07 January 2020
Satisfied customers ask for new custom functionalities
The latest set-up and release procedures are confirmed as quick and straightforward, and the App's stability decreases the support needed by customers. Customers ask for further customisations that turn into new features and modules available for the entire network of companies. The number of customers increases and so do negotiations.
17 June 2020
MyNet becomes a multilingual tool, and the second phase of development begins
The platform becomes multilingual to meet the needs of the companies who wish to offer the platform to their staff employed in foreign headquarters. The second phase of developments leads to new modules: Booking and Time keeper.
16 September 2020
New partnerships and investors' interest
MyNet broadens its horizons and tries to fit into the public administration.
Boost Heroes and other venture capitalists are interested in the platform's technology, thus allowing MyNet to start negotiations with new investors.
10 November 2020
Benefit Corporation
MyNet becomes a Benefit Corporation and starts offering valuable service to the community in full compliance with the sustainable development goals promoted by the United Nations.
30 November 2020
End of the development phase
MyNet reaches its final form. The main goal is now to improve the functionalities of the platform to make it an increasingly competitive software.
01 January 2021
International exposure
MyNet opens up to the foreign market with its first international client, the World Trade Centre.
More